By Mark Keane
2015 was a great year for food and drink lovers. After plenty of discussion, and a little arguing, we came up with our 50 favourite things of the past year. From fine dining to doughnuts, this Best of 2015 list has everything covered! 
1. Food scene outside of Dublin
The fine dining scene outside of Dublin continues to get better and better. Jp McMahon took a page out of Noma's book when he set up Aniar in Galway. Its aim of using new and interesting foraged ingredients local to Galway ended up netting him a Michelin star.
Belfast would get its own Michelin Stars with Ox and Eipic. Dublin is no longer the hub for Irish fine dining, if you are visiting Kilkenny you have the Michelin star choice of the renowned Campagne or Lady Helen, and while in Waterford you can visit the Cliff House Hotel.
---
2. Coravin for wine
Wine lovers can rejoice as a revolutionary piece of technology was released that allows you to keep opened wine fresh indefinitely. It is known as Coravin 1000. The process inserts a thin needle through the cork, leaving it in place, but the wine can flow through the needle and then be poured into your glass. The needled is removed and the cork resealed, saving the wine from oxidation.
The Coravin 1000 will cost you 300 euro's and can be bought in all good wine shops.
---
3. Craft Cider
We've all tried Bulmer's in our younger days, and are still haunted by the bad memories, but now we are beginning to see more and more Irish craft ciders pop up. A drink that has suffered from a bad reputation in the past is actually beginning to change people's perceptions. There is now a great choice available, from Cockagee Keeved Cider, to Stonewell and Orpens, but the one that is most likely to win you over is Craigies Dalliance. Give cider another shot and be pleasantly surprised.
---
4. Emergence of excellent seafood places
Looking to get your hands on some fresh, perfectly prepared seafood? Restaurants like The Fish Shop in Smithfield, Rock Lobster in Dundrum, Klaw in Temple Bar, Caviston's in Glasthule, and The Fish Shack in Sandycove, have all been serving tasty seafood dishes this year. The Fish Shop's menu constantly changes depending on what fish comes in that day, you can choose from fried oysters with lime and chilli, wood roasted mackerel, or a classic beer battered fish and chips with tartare sauce. Be warned, perusing Caviston's Instagram will lead to fish cravings.
No longer do you need to trek out to Howth to get your fish fix.
---
5. Ireland's beer of the year
There is so much choice with craft beer at the moment, but what's the one beer that stood out from the crowd, which reached for the crown of Ireland's best beer in 2015? It has to be "200 Fathoms" from Galway Bay Brewery. This beer is only brewed once a year and is becoming increasingly hard to get your hands on, often being sold out almost immediately. The 2015 version was a 10% Imperial Stout aged in Teeling Whisky barrels. It was like having a rich indulgent whiskey, cocoa and coffee drink.
Fingers crossed that next year's version will be just as good.
---
6. Bean and Goose chocolate
Two sisters from Wexford, Karen and Natalie Keane, are creating beautiful single origin chocolate bars and sweets. They can be found every Saturday at the Temple Bar Market from 10am to 4pm. Some of the flavours are roasted almonds with Irish sea salt, orange with star anise and olive oil, blackcurrant and black peppermint. You can't go wrong with high quality chocolate, infused with a variety of different flavours.
---
7. The best pizza
There's plenty of pizza places around Dublin, but Base Wood Fired Pizza have been offering something that is at a whole other level. Their success in Ballsbridge over the past year has led them to expanding into Stillorgan and Terenure. For those who think that a pizza is just a pizza, prepare to be amazed by their Siena and Diablo offerings.
---
8. Burger heavyweights duel
In the beginning there was Bunsen, and out of the light came Wowburger. These two fine establishments knew what people wanted, a simple tasty burger. It's all about a patty that isn't dry and overcooked, and sticking to classic burger garnishes. Bunsen serves their burgers with pickles, onion, lettuce, tomato, ketchup, mustard and mayo. Wowburger offer much the same, but mushroom and jalapeno lovers are catered for too.
No longer do you need to strain your jaw trying to eat some burger monstrosity.
---
9. BBQ love
Smoked BBQ food is still going strong in 2015. The original Godfather of BBQ, Bison, continues to offer amazing pork ribs, but has been joined by places such as Pitt Bros, My Meat Wagon, and Smokin Bones. The menus are all very similar, but the quality remains high throughout all of them. With such great choices available, it all comes down to which BBQ place is closest when choosing where to eat.
---
10. Spoilt for coffee choice
Dublin used to be a bit of a barren land for proper coffee until Third Floor Espresso came along. Now there is so much well made, high quality coffee available, you don't have to journey to specific cafes to get your fix. Every place has their own espresso house blend, uses lightly roasted beans, and usually serves filter coffee too. The city centre has some great cafes, but for those living in Blackrock, Ranelagh, Dun Laoghaire, or Stoneybatter, they can get an espresso from Bear Market, Nick's Coffee, Curious Monkey Coffee Co., and Love Supreme.
---
11. Quirky, tasty, relaxed tea
For those tea lovers out there, you are in safe hands with Foam Cafe, Wall and Keogh, Clement & Pekoe. Foam offers organic teas like dandelion, wild fennel, as well as traditional flavours, in a very psychedelic environment. If you are the sort of person who likes pizza with their tea, they have some very tasty pizzas on offer too.
Wall and Keogh in Portobello take their tea very seriously. They have 150 varieties on offer, as well as serving freshly prepared sushi each day. Sit down with a cuppa, and grab some loose leaf tea for when you're at home.
---
12. Ireland's best brewery
Galway Bay Brewery made the best beer of 2015, but the brewery that has been releasing consistent, exciting, and gorgeous beers comes down to White Hag from Sligo and Eight Degrees from Cork. For those who love hoppy beers, they have you covered, want something stronger, they have 9-10% imperial stouts. These brewers have set the standard for the future of Irish craft beer, and they made 2015 a really interesting year for beer lovers.
---
13. Marcel's restaurant new location
Marcel's, formerly of St. Mary's Road in Dublin 4, has a new location on Merrion Row. The sister restaurant of Pichet and Opium, is still serving French fine dining, but is now in a beautifully chic high-ceilinged room. On the other hand, their bar is quaint and cosy, a sort of Old World Ireland.
Grab a drink and nibble on some bar food, or come for an Early Bird in the restaurant, both choices will make for a great night.
---
14. Gaelic Escargot
When you think of free-range produce, you wouldn't think straight away of snails. Eva Milka has set up Gaelic Escargot in Carlow, which bred 7.5 tonnes of snails last year. What does one do with such a huge amount of snails? Ask any French person and they will talk about cooking snails with plenty of garlic and butter. Strangely enough, they can be used in beauty products, and the shells are great as a fertilizer.
While Irish people may not be clamouring to eat snails, that is not the case in continental Europe, and even in places such as the Middle East and Asia. Eva hopes to develop snail-breeding techniques for specific areas in Ireland, so expect to see snails pop up on restaurant menus in the future.
---
15. New young Irish chefs
There's a new crop of young Irish chefs doing exciting things in Ireland's culinary world. Donegal Chef Ciaran Sweeney did a four week Sunday night residency of his dishes at Forest Avenue, serving dishes such as beef cheeks, coconut, cauliflower, and lemon grass, and a dessert of caramel custard tart with prune ice cream and smoked tea.
While Mark Moriarty won the prestigious San Pellegrino best young chef in the world, serving a dish of salt baked celeriac, pearl barley and hay smoked tea. He is popping up at different locations with his "Culinary Counter", serving a modern take on Irish cuisine.
---
16. Dublin Honey Project
Honey lovers can rejoice as the Dublin Honey Project is producing amazing raw honey from the rooftops of Belvedere College. They also have locations in UCD, Goatstown and Dublin Mountains too, with the idea that the honey will have unique flavours depending on where it comes from.
Grab a jar, add some to your morning porridge or into your tea. It will taste great no matter how you use it.
---
17. Tasting menus
The Greenhouse on Dawson Street finally got their Michelin Star this year. Fine dining restaurants have fallen slightly out of love with the public lately, but if there was ever any restaurant worthy of putting on a dinner jacket and tie, it's The Greenhouse. The level of their cooking is nearly unparalleled. The big question is, will it get another Michelin Star next year?
Those looking to try a more affordable tasting menu experience, can have their taste buds delighted by the team at Forest Avenue.
---
18. Newest hotspot
Food lovers are always on the lookout for the new darling of Irish cuisine. Bastible on South Circular Road, which only opened on November 4th, already has people raving about it. Barry Fitzgerald, formerly of Etto on Merrion Row, is serving up dishes like ham hock broth with milk curd dumplings, as well as more traditional dishes like a floating island with lemon custard and rhubarb.
Unfortunately the cat is already out of the bag, as after only two weeks Bastible received 1000 reservation requests over three days.
---
19. Best place for a beer
P. Macs near Stephens Green and Cassidy's on Westmoreland Street have a really great bar formula. Serve amazing craft beer, while also catering to the Guinness, Orchard Thieves, and Hop House 13 lovers. Throw in some tasty pizzas, free sweets like Stinger and Refresher bars, good music, arcade games, and what you get is a cosy bar with a great atmosphere. The staff are more than happy to help out with beer choices and give small beer samples if needed.
---
20. Ranelagh
Ranelagh has long been a place for bars and restaurants. However, it's now become a place with much more. Stop by Lidl and pick up some groceries, or if you're feeling flush, take a short walk to Donnybrook Fair. Want to get some quality meat from an expert, try The Village Butchers. Get lunch and coffee in Cinnamon, or cross the road and go to Michie Sushi instead. Want dinner and drinks, visit Brioche and McSorley's. Ranelagh is of course home to one of Ireland's best off-licenses too, Redmond's. There's a lot going on in Ranelagh and its surrounding areas, and it couldn't be easier to get there with the Luas.
---
21. Christmas markets
There's been a great amount of choice for those wanting to visit Christmas markets over December. The Dublin Flea Market in New Point had over 100 traders selling all sorts of collectibles, vintage clothes, art and vinyl, while the Christmas Bazaar in Smithfield was perfect for a weekend trip. You could get your Christmas presents, and then stop by My Meat Wagon or L. Mulligan Grocer for a spot of food.
Teelings even got in on the act having their own Christmas Craft Fair. They collaborated with Irish brands, having items like a whiskey smoked sea salt available from The Oriel Sea Salt Company, and Teeling Christmas puddings from Mannings at the fair.
---
22. Place for a Sunday lunch with the family
The brains behind Juniors Deli & Cafe and Paulies Pizza, felt Bath Street could do with a proper old-style gastropub, thus, The Old Spot was born. It's a small, cozy, gastropub, in the vein of the English ones. Their food is top quality, showing off what gastropub food is really about.
Where The Old Spot really shines is with the Sunday lunches it offers. Choose from roast beef with potatoes, carrots, Yorkshire puddings and gravy. Or share a roast chicken with all the trimmings.
---
23. Sandwich heaven
Sometimes you want to keep things simple by grabbing a sandwich and coffee, and something sweet for the road. 147 Deli on Parnell Street have you covered and then some. Their sandwiches are constantly changing, taking ideas from different cuisines, and always ensuring they are filled full of flavour. Pick from Indian spiced brisket with curried slaw and mango chutney on an onion bap, or an old fashioned fish finger sandwich with mint mushy peas and tartare sauce.
They have raised the bar for sandwiches in Dublin. Oh, and don't forget to grab 1 or 2 doughnuts before they are sold out.
---
24. Best new beer idea
Like beer? Like hot chilli sauce? The brains behind Galway Bay Brewery have you covered then with their Of Foam and Fury double ipa chilli sauce. The beer is known for being strong and having huge tropical fruit flavours, so this sauce is not for the faint hearted. Since it is a concentrate, the sauce will actually be 0.0% abv.
---
25. Dublin Pop Up
Everybody enjoys a good old pop up restaurant, but two young Irish chefs have managed to elevate the concept to a whole new level. Cúán Greene and Harry Colley created "Dublin Pop Up" in 2013, but over the past year they have been responsible for the food at a series of events that you no doubt wish you had managed to nab tickets for.
They made the food for Heineken's "Dine in the Dark", and worked with Lidl to create the "Secret Garden", a pop up restaurant that ran for a weekend in Temple Bar using only items that were purchased in Lidl. They hosted their last pop up of 2015 by serving a 7 course tasting menu at an apartment in the IFSC.
Let's see what 2016 holds for these chefs, keep an eye out for their latest pop ups by following them on Twitter @DublinPopUp
---
26. Dillisk and boat sheds
"Dillisk" was a seaside food project based in Galway. Its unique selling point was by serving a tasting menu using local produce which was only caught that day, and by hosting the meal in a converted boat shed. Seaweed played a prominent role in the project since there are so many types growing in abundance on the Galway shores.
The project had one major aim, learn more about what was naturally available on land and shore, and to showcase these ingredients in all their glory. It succeeded, and there's talk it will return next year.
---
27. Beer growlers
American beer lovers embraced the use of growlers, but it's been slow to take off here. For the uninitiated, it is a refillable bottle that can be filled with draught beer, sealed and kept fresh. Why should you avail of it? A lot of the time it works out cheaper than buying bottles of beer, allows you to try beers that are only served on draught, and is perfect if you don't fancy going to a pub on a Saturday night.
Carryout have an excellent growler system set up in their Tyrellstown and Clongriffin shops, as well as in Baggot Street Wines. Even Supervalu are getting in on the act.
---
28. The Virtuous Tart book
They say you can't have your cake and eat it too, Susan Jane White doesn't share this view and her book "The Virtuous Tart" is the perfect Christmas present for cake lovers who want to share this ethos. The recipes are free from wheat, dairy and cane sugar, but to ensure that they still taste delicious she incorporates ingredients like dates, coconut flour, cacao and raw honey instead.
For those who want to make healthy desserts over Christmas, or to get a family member to do all the hard work, this book is filled with sinful but saintly recipes!
---
29. Pizza Da Piero
Pizza, is there anything it can't fix? The Artisan Pizza Company in Rathmines creates pizza bases using only the finest natural ingredients. They are allowed to ferment over a two day period, a process rarely used by other pizza manufacturers. The bases can be bought in packs of 2 under the new Pizza da Piero label at a cost of 3.99
Buying these bases means you can devote your time to creating all sorts of pizza masterpieces at home. Slather that base with tomato sauce, your favourite cheese, chorizo, pepperoni, mushrooms and onions, and you will never want to order a pizza delivery again.
---
30. Osteria Lucio
Osteria Lucio, formerly known as Pizza e Porchetta, has chefs Ross Lewis of Chapter One fame and Luciano Tona unite their love of Irish and Italian food. The restaurant is perfectly situated close to Grand Canal Dock DART station, hop off for some beautiful pasta and pizza, then walk into town for a few drinks afterwards.
Osteria Lucio use the best produce from Ireland and Italy, and as you would expect, have a great wine list to complement their dishes.
---
31. Enda McEvoy
Any restaurant that gets a Michelin Star after being only opened for 10 months has to be offering something truly amazing. Enda McEvoy, having earned his first Michelin Star at Aniar in 2012, set up Loam in Eyre Square, Galway. As you would expect, the restaurant has a Scandinavian feel to it, using local, seasonal, and foraged produce.
At first glance a dish of "Rose & pear" sounds simple, but it belies the fact that Loam is offering stunning dishes. They also open as a wine bar from 4pm, offering small plates of food with organic, biodynamic wines from small family run vineyards.
---
32. New exciting dishes
We are always looking for the next chef and restaurant that is doing something new and fun, serving dishes or using ingredients that nobody else is. It can be carrots baked in clay from The Culinary Counter, pig tails with scallops from Loam, fermented potato bread with cabbage and bacon relish from Ciaran Sweeney, or Brioche in Ranelagh using pig's heads.
They all sound amazing, but Amuse on Dawson street use of Asian flavours is very intriguing. You won't have heard of a lot of the ingredients, but you will leave the restaurant ready to break down some new food knowledge to your friends.
---
33. Delicious Dublin Tours by French Foodie in Dublin

Planning on visiting Dublin and want to discover the best food on offer throughout the city? Then book a tour with Ketty Elisabeth, otherwise known as "French Foodie in Dublin". The tour will have you visit local shops, along with food and drink businesses, giving you a taste for Dublin's modern food scene.
The tours are every Saturday from 10:45 to 14:15, and will cost around 48 euro's per person.
---
34. Taste at Rustic
Dylan McGrath's latest creation, Taste at Rustic, is a Japanese inspired restaurant that aims to explore the five different tastes. For those who may only be able to name four of them, the five tastes are sweet, bitter, sour, salt, and umami.
You may not be familiar with umami, but you have definitely crossed paths with it before. Pringles, with their motto of "Once you pop, you can't stop" is due to a processed version of umami. However, it naturally occurs in the dishes at "Taste" when they use ingredients like shiitake mushrooms, or with their own miso broths and stock pots. Get a taste of Japan as well as an education on how great umami is.
---
35. Jessica Murphy of Kai
Galway has another chef making the most of local produce and suppliers, creating daily menus that are all about big tasty flavours. Jessica Murphy of Kai Cafe Restaurant won Best Chef in the West from the esteemed "Food and Wine" magazine in September.
Their lunch menu consists of dishes like spicy harissa beef "Sloppy Joe" on a focaccia bun, or a buttermilk and panko crumb pollock fish finger. Dinner has you covered with John Dory and gin crudo, or a monkfish, sea spaghetti and cockle broth.
Kai is all about comfort food, with the menu constantly changing, you will find yourself returning again and again.
---
36. Lunch at Green 19
There's a lot going on around Camden Street, it would be easy to get burger and fries for lunch every day if you worked around there, but Green 19 have you covered with a healthy, tasty alternative.
Choose from a pumpkin and beetroot salad, which you know is going to be really good for you, or an omega 3 packed salmon, tomato, green bean version. The sandwiches use ingredients like house smoked pastrami, curried chicken, chorizo, and sauerkraut if you want something a bit meatier. A Green 19 House Burger, as well as slow braised pork belly for mains, makes this an essential spot for lunch.
---
37. Seasonal and special once off beers

Every birthday and Christmas, brewers decide to let their hair down and make a beer that pushes their boundaries, allowing them to nerd out a little. It keeps things exciting in the beer world, and even surprises the biggest craft beer lovers with how good some of the beers are. We've previously seen 11% triple ipa's, imperial red ales, and 13.5% barleywines.
Keep your eyes peeled as these special beers tend to be very limited, and only brewed the one time.
---
38. Il Pirata, Belfast
Simple, rustic, tasty Italian food will never go out of fashion. When it's done well, and you're sitting back, face stained with sauce, there's no better feeling. Il Pirata in Belfast knows this, and offer a menu filled with a choice of wonderful Italian dishes. There are too many delicious options to list, just get yourself there, and bring the family so you can try what they order too.
---
39. Burmese brunch at The Meeting House
The Meeting House are known for making amazing cocktails, but their Burmese brunch menu is perfect when you want to try a number of dishes with your other half. They are priced at 9.99 each, but if you pick 3 or 6 dishes they will cost 27 and 49 Euro's respectively.
You can try an Asian beef burger on a steamed coconut bun, tuna tacos, glazed pork belly with duck eggs, as well as fish and vegetarian options. All you have to ask your other half is whether or not to get a post-brunch cocktail!
---
40. James Whelan Butchers
Life can't be all fancy restaurants and cocktail bars, occasionally you will need to cook something for yourself. James Whelan Butchers is a great place to pick up beef, lamb, chicken, pork, or whatever you may fancy. Want to surprise your friends with gorgeous roast potatoes? Grab some of their award winning Beef Dripping and use liberally!
They also provide readymade dishes, ranging from an Irish stew to beef lasagne to chicken korma. All your meat needs are covered with this butcher.
---
41. Locks premises re-opening
Keelan Higgs, owner and co-head chef of the newly re-established Locks 1 Windsor Terrace, is making his own mark on the Irish food scene. Having worked as sous chef in The Greenhouse, as well as previous experience in Patrick Guilbaud's and Chapter One, he seized the chance to take over the Locks premises and work with his friend Conor O' Dowd.
Judging from their culinary pedigree, and Christmas dinner menu, it will be well worth paying a visit to Portobello again.
---
42. Luna's special dishes
Luna on Drury Street is an Italian style seafood and pasta restaurant that takes its inspiration from 1950's America. There are two Christmas dishes being served there that really need to be eaten. Dish number one is wild boar ragu, parmesan ravioli, with swede and pumpkin. The second is a whole roast partridge, mulled pear carpaccio, rosti, pig foot and prune.
For those wanting to try something else indulgent in the future, the chefs at Luna do enjoy making truffle spaghetti.
---
43. A taste of Italy
Looking for a taste of Italy? The Unicorn by Fiorentina is Dublin's original Italian restaurant. Having being re-opened with new owners, it hasn't lost that bit of magic which made it special originally. Risotto with fresh black truffle and 2 year old aged Parmigiano is that perfect and rich Italian dish for Christmas.
In the future, they hope to launch a range of group cooking classes, a perfect opportunity to learn how to make the classic Ligurian fish stew, panna cotta, and tiramisu.
---
44. R.I.P. Twisted Pepper, Hello Wigwam
Wigwam, brought to you by the people behind Bodytonic, has taken over the Twisted Pepper premises. You will still find Vice Coffee and The Boxcutter Barbershop there, but now they are joined by great food and drinks. The food has a Brazilian-Irish slant to it, while drink options consist of cocktails, wines, and some craft beer. Rum lovers are particularly catered for, with there being a selection of 100 bottles to choose from.
Events are held in the basement regularly, ideal for those wishing to do reggae yoga and dancehall classes.
---
45. Guinness Open Gate brewery
The Guinness Open Gate brewery has long been a place for brewers to experiment and make beers from old recipes. Their new Hop House 13, West Indies Porter and Dublin Porter beers came from this experimental brewery. Guinness has decided to open the doors to the public, allowing beer enthusiasts to see what exactly is going on behind the scenes.
The interior is very slick looking, but the beer choice will pleasantly surprise you. Guinness Nitro IPA, which has not been available in Ireland before makes an appearance, as does an 8.4% imperial dunkel weisse, and a 6.4% milk stout. With pints costing 5 euro's, this brewery is well worth a visit.
---
46. Gourmet marshmallows and meringues
It's been a great year for those with a sweet tooth. Delish Melish from Derval Mellett is selling her gourmet marshmallows and meringues at Farmleigh and Terenure Village markets. Keep an eye out for her at events too, she has previously been at Electric Picnic, and the RDS Craft & Gift Fair.
Flavours include spiced pumpkin marshmallow and apple meringues. The marshmallows are perfect for hot chocolate drinkers or s'more lovers!
---
47. Poutine
If you have any Canadian friends, then chances are they've talked about how great poutine is. It's nothing too complicated, you just combine chips, gravy, and cheese curds, but boy is it delicious. "Lala Poutine" is the first place in Ireland that is dedicated solely to making this addictive dish. For the moment, they can only be found at festivals and local markets. This is just simple comfort food done well. Once you try poutine, you will wonder where it's been your whole life.
---
48. Kimchi fries
Fries have been around forever, but sometimes you just get bored of things and want a change. Wowburger with their garlic butter fries do hit the spot, but for those wanting to try something new, pick up some kimchi fries in Bread and Bones. Kimchi is made with fermented vegetables, usually cabbage, radish and scallions, and with a variety of seasonings. For those who may still be wary, chances are you've tried sweet potato fries, nothing can be worse than those, so take a chance and give these a shot.
---
49. Cove restaurant in Donegal
Ever wanted to eat unbelievably fresh crab and lobster, with a view so picturesque that even the best smart phone picture wouldn't do it justice? Then get to Cove restaurant in Donegal. It is a bistro style restaurant overlooking Sheephaven bay.
An amazing view, beautiful seafood, all you need now is somebody worth sharing it with!
---
50. Irishman Abroad: Colin Kelly, chef of Picture restaurant in London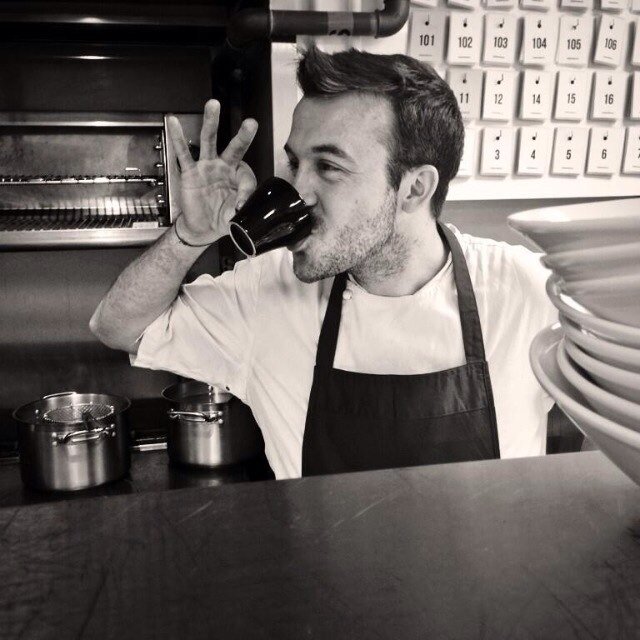 Next time you're visiting London, take a break from the shopping on Oxford Circus, and pay a visit to Picture restaurant, co-owned by Tullamore chef Colin Kelly. It's a warm, informal neighbourhood restaurant serving amazing food. Their menus include a 6 course tasting menu for 39 pounds, an a la carte one, or a 4 course lunch with a cocktail for 29 pounds.
Great food at a great cost!
---
51. Asian markets
Asian markets have been around Dublin for years now, but lately we are seeing more and more adventurous Irish people lurking in the aisles. The one on Drury Street is ideal for those trying to expand their food horizon as they have plenty of English translations for items. It doesn't matter if you aren't a huge fan of Asian cuisine, these markets are great for picking up fish, duck, spices, Nando's peri-peri sauce, nuts, seeds, and all types of flour.
They occasionally do tours of the market, and their website has a list of all their products meaning you can do some research before visiting.
Let us know what you thought of our list on Facebook & Twitter and what you thought deserved to be considered in a "Best of 2015".